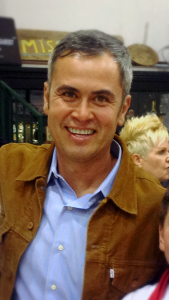 (RED OAK) – When hundreds of thousands lost their oil field jobs in 2015, Texas State Technical College Logistics student Chris Sheehan was no different. The army veteran had worked off the coast in the oil industry for 12 years and found himself looking for employment.
"I went and talked to a counselor, and they mentioned this great school — TSTC in North Texas — and asked if I wanted to go have a look, maybe start a new career," Sheehan said. "So that's exactly what I did. I went to talk to the instructors and I really liked the school. I could see opportunity in the field."
Sheehan was chosen to complete an internship with Walmart, working at their distribution center in Bentonville, Arkansas.
"It's because of TSTC that I was selected to attend the internship with Walmart," he said. "It was highly competitive. I was competing against students from Baylor, TCU and UT. They only select a handful of people to attend — one person per distribution center. "
The experience gave Sheehan a look into the world of logistics.
"You don't have squadrons of interns walking around serving coffee; you actually get to know the job," Sheehan said. "They give you the opportunity to see what you can produce. Typically 90 percent of the people that intern are offered a job. Because you've already been selected to attend the internship, they already know they want you to work for them. They just wanted to see if you fit with the organization, their values and everything else."
After completing his internship, Sheehan was offered a position as area manager. He began working at the Walmart distribution center in Terrell, Texas, in September.
"I'm very grateful for the opportunity," Sheehan said. "It's a challenge. It's a great stepping stone into the field of logistics. You'll learn a lot from this company. I like the potential."
Sheehan credits his instructors with helping him get to where he is.
"I liked the fact that the instructors are willing to work with you," he said. "I could not have done this without them. Being able to work full time and go to school full time, there's no way. TSTC was more than willing to help me because they realized that this was a really good opportunity."
Friday, Sheehan will join 17 other TSTC in North Texas students in receiving their diplomas at the commencement ceremony in Waco. The ceremony, which begins at 6:30 p.m., will be held at the Waco Convention Center in downtown Waco.
According to O*NET OnLine, Texas expects a 16 percent increase in jobs for logisticians over the next eight years. TSTC offers an Associate of Applied Science degree in Logistics exclusively at the North Texas campus.
TSTC offers specialized, hands-on instructional courses leading to Associate of Applied Science degrees and Certificates of Completion in areas such as computer-aided drafting and design, cyber security, diesel equipment technology, HVAC technology, welding and more.
Across Texas, TSTC has more than 900 candidates for graduation this semester and is enrolling now for spring 2017. To apply, visit tstc.edu.
– # –
What: Texas State Technical College Fall Commencement Ceremony
When: Friday, Dec. 9, 6:30 p.m.
Where: Waco Convention Center, 100 Washington Avenue, Waco