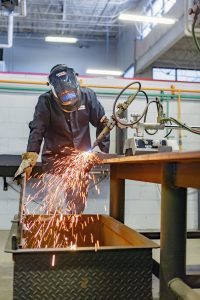 (BRECKENRIDGE) – Christmas came early for five TSTC Welding Technology students who will graduate Monday with job offers from 1954 Manufacturing, a company based in nearby Graham, Texas.
One student, who grew up in Graham, interviewed with the company on his own and relayed to his classmates that they were interested in hiring more welders. Monday, Welding instructor Gregory Nicholas packed up five of his students to visit the company.
"I took them because most of them didn't have the gas money to drive out there. It's a little harder when you're a full-time student," Nicholas said. "So I said 'Alright, let's load up and go!' and I took them out there."
Nicholas said he hoped the trip would make a difference for his students.
"I wanted to help change their lives and help them get their career started in what they came to do," he said.
The students interviewed and toured the company, and were all offered jobs.
"When the instructor brought in the other students, they were more than qualified. We've had people apply from [another welding school] but they haven't been as qualified," said 1954 Manufacturing Manager Courtney Hayes. "After they took our weld test, we were interested in bringing them on."
Hayes said the company hopes to bring on more TSTC graduates in the future.
"The instructor was very helpful. We're definitely interested in partnering with TSTC and interested in any candidates coming through his class that he thinks would be a good fit," Hayes said. "If they all have training like the other applicants that came in, it's exactly what we're looking for."
The company, which was founded in 2014, focuses on building truck bodies. They expect to hire another 10 to 20 welders next month.
"We have a sister company in California and we're moving our entire water tank department here in January, which is why we're trying to ramp up and hire more welders," Hayes said. "Once we make that transition, we'll be looking for more people to put in those positions and we foresee continued growth."
According to Onetonline.org, Texas will see a 13 percent increase in jobs for welders over the next eight years.
The two-semester welding program will teach students multiple welding processes including oxy-fuel welding (OFW) and cutting, shielded metal arc welding (SMAW), gas metal arc welding (GMAW), and gas tungsten arc welding (GTAW).
TSTC is enrolling now for Spring 2017. To apply, or for more information, visit
tstc.edu
.
-#-