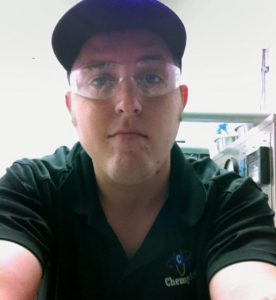 (HUTTO) – When the oil industry crashed in 2015, Cedar Park resident Stephen Price found himself unemployed and looking for a new career.
Price's brother had enrolled at Texas State Technical College in Williamson County and told him about it. Price wanted something in which he could use his mechanical military background, so he followed suit after learning about TSTC's welding program.
Price said he learned a lot at TSTC.
"When I started, I knew almost nothing about welding," Price said. "I think I picked up pretty quick. I'm a quick study. There were some things that took more time to get proficient at."
The Air Force veteran graduated in December 2016 and found employment at 101 Mobility in Cedar Park. Price wanted to stay close to home after spending six years traveling the world with the Air Force. He served three years at Dyess Air Force Base in Abilene, three in Aviano, Italy, and some time in Iraq and Qatar.
"Those years in Italy were the best years of my life," Price said. "I traveled all over Europe. I was an hour north of Venice. In three hours I could be in Poland or Germany."
Now, he is working as the fifth member in a growing company, and he was excited to get in early.
"101 Mobility installs handicap accessibility items like stair lifts, elevators and ramps," Price said. "I assemble and install them to the customer's specifications. It's what I want to do, the pay is good and I'm getting in on the ground floor."
101 Mobility began in 2008 in Wilmington, North Carolina. The company opened in Cedar Park in 2012, and current owner and president Kellye Jennings purchased the location in 2015. At the time, the company had two employees, making her the third. She's since almost doubled the head count.
"I'm really trying to develop more resources and offer more products," Jennings said. "I've invested in additional employees with the expectation that we'll start realizing the additional revenue. I feel that it's more important to have the people in place first and then experience the growth, instead of experiencing the growth and scrambling to find people. With growth comes opportunity, and I think that's what drew in Stephen."
Jennings was initially drawn to Price's resume because of his military experience.
"I think it's important to hire someone with a military background because of the connection with our customers," Jennings said. "The discipline and the skills you develop in the military really lend themselves to the business. The fact that he recently graduated was the icing on the cake. With him focusing on his next objective, which is developing his skill, shows focus and initiative, and those are two qualities that I really feel are important."
Spring classes at TSTC in Williamson County begin Tuesday, Jan. 17. TSTC begins registering for the summer semester on April 3.
For more information on TSTC's welding program, visit tstc.edu.