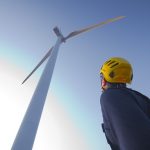 (SWEETWATER) – Wind Turbine Technician tops the U.S. Bureau of Labor Statistics' annual list of fastest-growing jobs with a whopping 108 percent growth over the next eight years. With Texas State Technical College's Wind Energy program, students can break into the industry in as little as one year with a certificate of completion or two years with an associate degree.
According to a report from the International Renewable Energy Agency, more than 8.1 million people worldwide are working in renewable energy jobs. Students in the Wind Energy program at TSTC learn to safely troubleshoot and repair all components of a wind turbine.
Lead Wind Energy Instructor Heath Ince said the program has seen a jump in enrollment this fall, but the biggest change came in TSTC's industry partners.
"We've always had good placement in our program, but what I've noticed is that now we have more companies competing for our students," Ince said. "They want to get in here and get them hired before they even graduate because of the demand for skilled wind technicians out there right now."
NextEra Energy is one company that competes for TSTC graduates. The company, which employs a significant number of wind technicians in the United States and Canada, made job offers to several TSTC students who graduated in December.
"We're the largest producers of renewable energy in the world, so we think about this growth every day," said James Auld, director of External Training Initiatives at NextEra. "We come to TSTC to recruit twice a year. We present to the students and interview every student who's interested in interviewing. We are pleased to have made job offers to several promising TSTC graduates."
Auld attributes the company's strong relationship with TSTC to its location in the Big Country area.
"We have very large wind farm sites very close to Sweetwater," Auld said. "It allows us to take local folks who are educated locally and put them to work near home. It's a big win for everyone."
Ince said the fact that the job is the fastest-growing in the nation didn't come as a complete shock to him.
"We were kind of expecting it," Ince said. "Our other wind instructor and I have been going to the American Wind Energy Association (AWEA) conference every year, so we've been kind of up to date. We knew there was going to be growth and that the demand was going to be there. We're just now really starting to see it."
Last week Zippia, a company that helps people find the right career, named wind turbine service technician as the top-growing job in Texas, with 129.2 percent growth.
Classes at TSTC began Monday, Jan. 9. TSTC will begin registering for the summer semester on April 3.
For more information on TSTC's Wind Energy Technology, or to apply, visit tstc.edu.