(HARLINGEN) – Isabella Coronado recently made the move from Pennsylvania to Harlingen and said it was the best decision she could have made because it led her to Texas State Technical College.
The 21-year-old is completing her General Academic Core at TSTC and should be done by Spring 2018.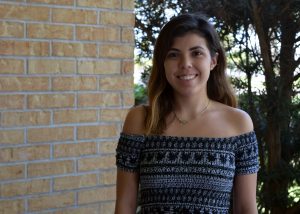 Coronado began her college career studying biology and nursing in her home state but she said it never felt right.
"Psychology is what I'm meant to be doing," she said. "And the advisors and instructors at TSTC have done nothing but guide me with the right classes and encourage my career choice."
She added that the TV show "Criminal Minds" is what peaked her interest in this career.
What are your plans after graduation?
After completing my academic core at TSTC, I plan on transferring to either a local university or one in San Antonio to pursue a bachelor's degree in Psychology.
What's your dream job?
My dream job is to be a behavioral analyst for the FBI predicting trends in people's behavior.
What has been your greatest accomplishment while at TSTC?
Officially figuring out what I want to do with my life is my greatest accomplishment. Talking with my advisors at TSTC really helped me figure out my dislikes and likes, no one had helped me like that before. They have really guided me in finding my path and now I know what I'm working toward.
What greatest lesson have you learned about yourself or life?
I have learned that it is important to do what makes you happy and what you have the passion for. I recently discovered that when I was majoring in biology and nursing and I was not excited about what I was learning. I was only majoring in that field because I knew the salary was good, but I've learned that it is not all about the money.
Who at TSTC has had the greatest influence on your success?
The majority of the advisors at TSTC have had the greatest influence on my success and in my life. They are always there to talk if I need advice or help. They answer all of my questions and have helped me pick the classes I need to successfully continue my education outside of TSTC. No matter what, they are there and I really appreciate it.
What is your advice for future TSTC students?
I want to tell future students to go for their passions and if they still don't know what they want to do, go to school anyway and complete the basics.