(HARLINGEN) – Texas State Technical College in partnership with SATA USA received a $100,001 Skills Development Fund Grant from the Texas Workforce Commission.
In a check signing Thursday, June 22, at the Brownsville Museum of Art, TSTC Provost Dr. Stella Garcia and SATA USA Chief Operations Officer and Vice President Marco Margrotto expressed their appreciation and excitement toward the TWC for this donation.
"This grant is significant because this is the first one we receive directed toward a specific company in Brownsville," said Garcia. "This allows us to expand our market, while providing customized training to continue building their workforce."
With this contribution TSTC will be able to train 40 new employees from industry production, maintenance and support occupations providing them with approximately 2,560 hours of industrial training programs conducted by TSTC instructors at SATA USA's facility in Brownsville.
"This moment is so important," said Margrotto. "Surely this is the just the beginning of a partnership we hope to grow moving forward."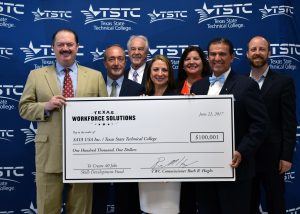 SATA USA in Brownsville, a subsidiary of Italy-based SATA Group, is the company's first manufacturing facility in North America and will serve as SATA USA's North American Headquarters.
SATA Group creates parts for heavy equipment manufacturers such as John Deer and Caterpillar, as well as for automotive industry giants such as General Motors and Fiat.
The machining operation plans to create more than 300 jobs over the next five years and with the help from the TWC, TSTC will be able to help them make this a reality.
"With TSTC's help I am pretty sure we will be able to generate the skills we need for our plant allowing us to be successful in the operation of manufacturing here," said Margrotto. "We're a great team with TSTC in figuring out the kind of training we need and we're in a good place right now."
Other speakers at the event spoke about the benefit this grant has on TSTC, SATA and the region as a whole. Speakers included Texas State Senator Eddie Lucio Jr., Texas State Representatives Rene Oliveira and Eddie Lucio III, Texas Workforce Solutions Cameron County Chief Executive Officer Patt Hobbs, Greater Brownsville Incentives Corporation Board Member John Cowen and Texas Workforce Commission Commissioner for Employers Ruth Hughs.
"The partnership between TSTC and SATA really speaks highly to the community about the dedication of developing the workforce and industry in the area to give people the opportunity for careers in high-demand jobs," said Hughs. "We've been very impressed with the training they have provided through other Skills Development Fund grants and we know the individuals they train are ready to enter the workforce."

For more information on TSTC workforce training or employee development opportunities, call 956-364-4530.