(HARLINGEN) – Texas State Technical College will soon be under new leadership as Provost Dr. Stella Garcia resigns to assume a new position in San Antonio.
With a background in executive leadership and workforce development, Garcia has served TSTC for seven years in several different roles. She started in September of 2010 as the Associate Vice President of Corporate Community Education, then took on the role of Chief of Staff for former TSTC President Cesar Maldonado, Vice President of Institutional Effectiveness and Research and Interim President.
"These were my first jobs in higher education. I certainly did not have the traditional track of getting to where I am. For that I feel very fortunate," said Garcia.
In fact, the Valley native's first job was teaching GED classes and basic life skills in the early 1990's, and her new venture will take her career to new heights, but back to her roots.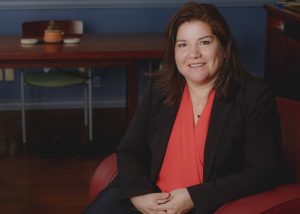 Though she will miss TSTC, Garcia said she is excited for what is ahead. She will be moving to San Antonio next month where she will work as the Senior Director of Operations for the Alamo Area Council of Governments serving 13 counties, and she would ultimately like to teach in her fields of study, Leadership Studies or Public Administration, at one of the colleges or universities in the city.
Garcia holds a doctorate in Leadership Studies from Our Lady of the Lake University, a master's degree in Public Administration from Texas State University and a bachelor's degree in Microbiology from the University of Texas.
"This was a difficult decision for me," she said. "I've thought long and hard, but this is what's right for me."
When asked what she will miss the most about her job, Garcia said it is certainly the relationships she has formed over the years with the people of TSTC and the Harlingen community.
"I'm been very fortunate that my jobs have allowed me to get to know so many great people," said Garcia. "TSTC has given me good friends who have turned into family and I will miss all of them, but with Rick, they and the college, are in good hands."
Rick, is Rick Herrera, TSTC's Vice Chancellor and Chief Integration Officer and head of the TSTC Management Council. A Valley native who has been with TSTC for almost a decade, Herrera will serve as interim provost after Garcia leaves.
"Rick is already a leader for our college and there is no one who understands our vision and mission as much as he does," she said. "He will be successful and TSTC will continue to flourish under his leadership."
Herrera, who has already been working closely with Garcia leading up to the change in roles, has nothing but praise for Garcia's accomplishments.
"Garcia is a true and proven servant-leader. That is, she is someone who has worked tirelessly to improve the lives of others. She has dedicated all her time and effort to support our students and brag about their successes. And in serving TSTC with passion and conviction, she has gained the love and respect of our employees and the community at large," said Herrera.
TSTC Chancellor and Chief Executive Officer Mike Reeser calls Garcia's resignation a bittersweet situation.
"As Stella's coworkers, we are devastated by her departure because she is an important part of our leadership team," he said. "However, as her friends, we are incredibly excited that she has been presented with an irresistible professional opportunity and we know her success is a certainty."
Garcia said she is flattered and humbled knowing that her presence and work will be missed at TSTC.
"I will miss everyone also, and I know TSTC, Harlingen and the Valley have great synergy and I'm just sad I won't get to see it first hand," she said. "But I hope to be invited back to the campus for a visit soon."
Garcia will be celebrated at a gathering this morning from 10 to 12 noon at the Cultural Arts Center. Community leaders are invited to attend.