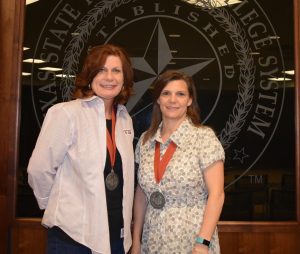 (SWEETWATER) – Texas State Technical College has announced the recipients of this year's Chancellor's Excellence Award, and seven West Texas employees were honored. Of the seven, two employees from Sweetwater received the award.
This year's Sweetwater award winners are Marina Wilcox, interim provost and vice president of Dual Enrollment, and Julie Browning, executive administrative assistant.
Browning has worked at TSTC for four years and said she was honored to receive the award.
"I guess I do my job well!" she laughed.
It is interaction with people that motivates her to come into work every day.
"I'm passionate about TSTC because of the people I work with and the students I work for," Browning said.
Wilcox, who has worked at TSTC for a collective four years, felt the same sentiments.
"I was absolutely honored and humbled that my peers felt that I was worthy of this award and that I helped serve and lead them in a capacity that they felt was of benefit to them and the college," she said.
Wilcox returned to TSTC in 2015, having previously worked at the college from 2007 to 2008.
"When I returned to TSTC, the college was on the ground level of going through the transition period of moving from separate colleges into one TSTC," she said. "There was a great deal of change that was going on, on multiple levels."
She was happy to guide her team through the shift.
"I'm glad I was able to be part of such an exciting transition and that I helped lead my team through that transition," she said. "I'm glad they were able to see the positive effects the transition was having on the college in the present and where we're going in the future. Every day is full of change and opportunities to be that servant-leader, to lead your team through the changes and to see the great effects it has in each of their areas."
The Chancellor's Excellence Award began in 2001, and over the past 15 years more than 280 TSTC employees have received the honor. Recipients are chosen based on outstanding contributions and achievements, commitment to excellence and character. Honorees serve as agents of change in the advancement of TSTC initiatives.
TSTC touts itself as being "a great place to work" and is currently hiring for over 90 positions at its 10 campuses statewide. For information on open positions at TSTC, visit tstc.edu/about/employment.
-#-