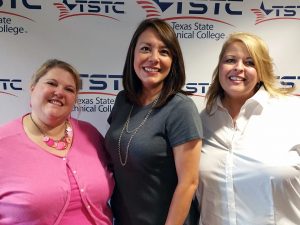 (ABILENE) – Texas State Technical College has announced the recipients of this year's Chancellor's Excellence Award, and seven West Texas employees were honored. Of the seven, three employees from Abilene received the award.
This year's Abilene award winners are Holle England, professional development officer; Jeannette Gist, director of student recruitment; and Jennifer Ryan, success coach.
England, a 22-year TSTC employee, was honored to receive the award.
"I believe in TSTC's mission, and I strive to make sure that everything I do goes toward that mission," she said. "In today's society, a technical education is so important. I try to make sure we have excellent faculty and staff to support the students."
Ryan has worked at TSTC for 14 years and said winning the award was a humbling experience.
"I thought it was a joke," she laughed. "When you come to work, you do your work and you try to make the best of it. You try to encourage your students the best that you can, and you don't really think about being recognized for that."
The "underdogs" keep her motivated at TSTC.
"I want to help the person that was told by their high school counselor, a teacher or even a family member, 'I don't think college is for you,'" she said. "I try to show them that just because they may be limited in reading or math skills, or maybe have a learning disability, that doesn't have to limit their potential to break the chain. Just because your family has always had manual jobs, that doesn't mean you can't be something different."
With a background in children's and family ministry, Gist also wanted to help make a difference for families.
"My heart just beats for families," she said. "When I took the job, I wasn't sure how my passion would connect with this job, but I found out very quickly how well it connects to what I care about. Every day in student recruitment we meet people. Sometimes they're young, but sometimes they're people even older than me who don't know what they want to be when they 'grow up.'"
She enjoys helping these students take the next step toward success.
"It's a high to be able to walk through the process and direct them to a career that will enable them to provide for their families," Gist said. "You never know what everybody's story is and what it even took for them to walk through the door and pursue something different. What if they grew up in a household where people didn't tell them they were smart? Maybe they didn't have the confidence to take on a challenge like college. I want to be the person that sits across from them and says, 'You can do it.'"
The Chancellor's Excellence Award began in 2001, and over the past 15 years more than 280 TSTC employees have received the honor. Recipients are chosen based on outstanding contributions and achievements, commitment to excellence and character. Honorees serve as agents of change in the advancement of TSTC initiatives.
TSTC touts itself as "a great place to work" and is currently hiring for over 90 positions at its 10 campuses. For information on open positions at TSTC, visit 
tstc.edu/about/employment
.
-#-