(HARLINGEN) –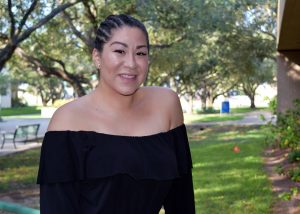 Ivette Cruz is a biology student at Texas State Technical College and expects to complete her courses in Fall 2017.
When the Texas transplant from Brooklyn, New York, is not busy studying and maintaining her 3.7 grade-point average, she is volunteering with the TSTC Veteran Students Alliance Club and spending time with her six-year-old son.
The 24-year-old said it has been seven years since she graduated from high school, but she decided there was no time better than the present to return to college and begin working on a degree to give her son a more stable life and herself a secure career.
What are your plans after graduation?
After completing my biology courses, I plan on returning to TSTC to pursue vocational and registered nursing. I then hope to get a position at a local hospital while pursuing my bachelor's degree in nursing at a local university.
What is your dream job?
My dream job is to work in obstetrics as a nurse practitioner or become a midwife. I'm intrigued with pregnancy and babies, and I feel this is my calling.
What has been your greatest accomplishment while at TSTC?
I'm a first-generation college student, so just returning is an accomplishment in itself. Also, getting a 4.0 my first semester and maintaining a good GPA so far is great. My boyfriend and family have a lot to do with this success. They continually push me to keep going and help me with my son.
What greatest lesson have you learned about yourself or life?
I have learned that everything is possible as long as you set your mind to it. I also always remember never to settle, always make new goals and pursue them until you reach them. TSTC is helping me achieve that right now.
Who at TSTC has influenced your success the most?
I would have to say that the Veteran Center and all of my classmates have had a huge influence on my success. They're always there when I need help or need a friend to talk to.
What is your advice for future TSTC students?
Cliche I know, but never give up, strive for success and don't be afraid to ask for help.