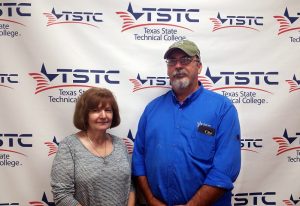 (BRECKENRIDGE) – Texas State Technical College has announced the recipients of this year's Chancellor's Excellence Award, and seven West Texas employees were honored. Of the seven, two employees from Breckenridge received the award.
This year's Breckenridge award winners are Vernon Akins, maintenance supervisor, and Cassie Love, enrollment specialist.
Akins, who has been at TSTC for nearly four years, said he was excited to receive the award.
"It was an honor to be nominated and be able to receive it," he said. "I try to treat everyone nice and get to the work orders as fast as I can get to them. I'm polite to everyone and do my best at what I can."
He said his co-workers are what drive him.
"I enjoy working with these people," Akins said. "I feel that everything I do helps them accomplish their jobs in the classroom or going to meetings. I just try to keep everything up and going."
Love, a 10-year TSTC employee, said she was honored and humbled that her co-workers nominated her for the award.
"They said that I was a very valued employee and an asset to TSTC," she said. "I'm willing to always help our students and fellow employees."
Her favorite part of her job is helping students.
"I love my job," Love said. "I like to help students and see them succeed. When they come in and they say, 'I don't think I can do this,' I like to tell them, 'Yes, you can!' I didn't start college until I was 42, so if I can do it, I know you can do it."
The Chancellor's Excellence Award began in 2001, and over the past 15 years more than 280 TSTC employees have received the honor. Recipients are chosen based on outstanding contributions and achievements, commitment to excellence and character. Honorees serve as agents of change in the advancement of TSTC initiatives.
TSTC touts itself as being "a great place to work" and is currently hiring for positions at its 10 campuses statewide. For information on open positions at TSTC, visit tstc.edu/about/employment.