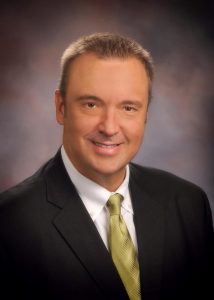 (ABILENE) – Doug Peters, president and CEO of the Abilene Chamber of Commerce, willspeak at the Texas State Technical College summer commencement ceremony, which starts at 7 p.m., Friday, Aug. 18, at the Abilene Civic Center.
Peters took on his current position of CEO in 2015. He oversees the strategic direction of the chamber and its affiliate organizations, including the Abilene Convention & Visitors Bureau, the Abilene Cultural Affairs Council and the Abilene Industrial Foundation.
He totes up 30 years of experience in chamber of commerce and economic development environments, having begun his career in Dayton, Ohio. He later went on to work for chambers of commerce in Richmond, Indiana; Findlay, Ohio; and Fayetteville, North Carolina, where he also served on the Economic Alliance.
Peters is a member of the Texas Chamber of Commerce Executives Association, the Grace Museum board, the Junior League of Fayetteville advisory board, the board of the United Way, and various other local, state and national organizations.
He is married to his lifelong sweetheart, Whitney, and together they have three children.
TSTC expects to award over 100 degrees and certificates across its four West Texas campuses Friday.
TSTC awards associate degrees and certificates in areas such as Aviation Maintenance, Computer-Aided Drafting & Design, Emergency Medical Services, Environmental Technology, Nursing, Welding, Wind Energy and more. The college is currently registering for the fall semester.
For more information on TSTC, visit tstc.edu.
– # –
Who: Texas State Technical College students, faculty and staff; Abilene Chamber of Commerce President and CEO Doug Peters
What: Texas State Technical College Summer Commencement Ceremony
When: Friday, Aug. 18, 7 p.m.
Where: Abilene Civic Center, 1100 N 6th St., Abilene