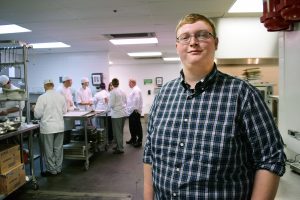 (ABILENE) – Matthew Kepner, a first-semester Culinary Arts student at Texas State Technical College in Abilene, was selected to receive a $10,000 scholarship from the James Beard Foundation.
The James Beard Foundation's scholarship program, which was established in 1991, assists aspiring and established culinary professionals further their education at accredited culinary schools or hospitality institutions, colleges and universities. In 2016 the foundation awarded over $7 million in financial aid to more than 1,850 recipients.
Beard was a culinary pioneer and hosted the first TV food program in 1946. Also a chef, cookbook author and teacher, Beard was dubbed the "Dean of American cookery" by the New York Times.

Kepner applied for the scholarship after finding the information online, and he was excited to find out he was selected.

"I was at work when my mom got the mail," he said. "She called me crying. It was really exciting."

So far, the scholarship has helped Kepner in school.

"It's really helped me with books, paying for classes and registering for everything," Kepner said. "It helped get me supplies like notebooks, pencils and things I need like that."

Culinary Arts instructor and chef Kayleen Moon said she sees a bright future for Kepner.

"The prepared ones are the ones that do well," she said. "He was one of those. He started emailing me long before any of the actual paperwork to get into the school."

She said Kepner's cooking experience outside of school will help him succeed.

"He's worked hard for what he has," Moon said. "He has experience, actual chef experience in a kitchen. He knows actual culinary terms, not just 'home kitchen words.' When I say things like 'depouillage,' he knows what it means. He's already coming in gifted and experienced."

Kepner will graduate in 2019 and hopes to find a job working on an offshore oil rig or in Alaska.

"Since those jobs are two weeks on, two weeks off, on my two weeks off I'd like to travel abroad to learn about other cultures' cooking and hopefully study under some other chefs," he said.

Authentic Mexican and Tex-Mex cuisine are Kepner's favorite foods to cook.

"I love the culture and history around Mexican food and Tex-Mex," he said. "I learned a lot from my neighbors who are from Mexico. They've taught me about cooking meat underground and stuff like that and cooking for hours and hours at a time. I just love the smells; they're the best thing in the world to me."

For more information on Texas State Technical College and the Culinary Arts program, visit tstc.edu.