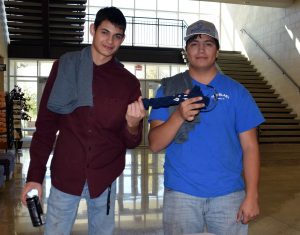 (HUTTO) – Students at the East Williamson County Higher Education Center made chew toys for dogs last week as part of a volunteer event for Make a Difference Day.
Make a Difference Day is one of the largest annual days of service nationwide. The day aims to improve the lives of others, and Texas State Technical College hosted the event for students to give back to the community.
TSTC was able to donate 53 dog toys to the Williamson County Regional Animal Shelter.
"It's a win-win, as students were treated to a service project and food and we provided a valuable service to a community partner," said TSTC Provost Edgar Padilla. "We are proud to have that component as part of our mission at TSTC."
Adele Clinton, TSTC's Executive Director of Student Life, said students have shown an interest in service projects over the last few years.
"They love it," Clinton said. "When the students engage in community service, they're learning communication skills, teamwork skills, conflict resolution, and they're getting TSTC's name out to communities who may not know that we're right in their backyards. It's also teaching students that volunteerism has been so much fun."
TSTC began participating in Make a Difference Day at the Harlingen campus in 2008 but has recently added the volunteer projects at its other campuses.
"Since I became a state lead and TSTC became one, we've taken it statewide and our numbers have increased exponentially ever since," Clinton said.
Padilla said he hopes to continue these types of projects at the school.
"At TSTC, we understand that our success depends on the support and viability of our local communities," said Padilla. "We believe in service and understand that we're part of a business community that is vibrant and interconnected. It's our goal to continue to grow by cultivating relationships and showing that we care, and I'm exceptionally proud to be part of a team that takes so much pride in doing so."
For more information on Texas State Technical College, visit tstc.edu.