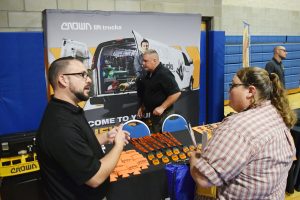 (WACO) – More than 90 employers visited Texas State Technical College Thursday for its annual Industry Career Day event, with nearly 650 job-seeking students in attendance.
Kacey Darnell, executive director of Talent Management and Career Services at TSTC, said the event gives students a chance to get to know employers.
"Industry Career Day gives employers a chance to show off their company,and it gives the students a chance to get a really great job," Darnell said. "A lot of times students don't know what kind of jobs companies offer. Last spring we had an Avionics student who came to Industry Career Day and ended up working for a company called True North Marine repairing the sonar equipment on the marine boats. It's something that aligns but is totally different than what he was expecting, and he's done really well."
One company in attendance, the cosmetics company Mary Kay, has participated in TSTC's Industry Career Day for five years. The company, which manufactures its own products, hires graduates to work on their production equipment.
"We currently offer an internship to hire, which is basically a 90-day probation period where they're truly doing packaging mechanic work," said Mary Kay associate HR business partner Nelissa Croach. "They do preventative maintenance and run their own lines, making sure the speed of the line is accurate. Some of the machines go 30 products a minute, where others are 137 products a minute. They have to make sure they're able to program the machines to do those things. Also if there's a jam, they have to figure it out and get it going."
Croach said TSTC's training aligns well with the knowledge of their longtime employees.
"A lot of the people we have there have been there for 20 plus years and haven't been recently trained on the new technology," she said. "So we have these guys coming in along with our long-term employees, and together it works out really well."
Joe Razza, regional recruiter at Crown Lift Trucks, said the company often visits TSTC's campuses to recruit those with electronics and mechanical backgrounds.
"We take those skills, hone them and put them through training to apply that to our technology," Razza said. "We've had great success, and the caliber of students is great as well. The students, as far as professionalism goes, the questions they ask, how they present themselves and their knowledge base is off the charts."
Darnell said she often sees TSTC alumni coming back to recruit.
"We have a lot of alumni representing their companies here," she said. "They know the training they got from TSTC, and they know they can find skilled workers here."
Sean Shannon, an Industrial Maintenance student who graduates in December, said this is his third Industry Career Day with TSTC.
"I ran out of resumes," he said. "I had an on-the-spot interview, so it's looking good. This is the biggest one I've been to. I think they're going to run out of room here soon!"
Part of TSTC's mission is to meet the workforce needs of Texas, and the college places a high importance on placing students and graduates in jobs. For more information on Texas State Technical College and the college's placement efforts, visit tstc.edu.