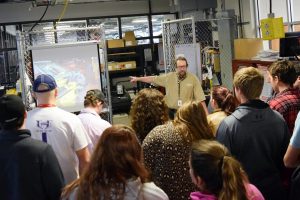 (HUTTO) – Texas State Technical College in Williamson County held its annual open house Friday, opening its campus for tours and meetings with faculty. The event, designed for prospective students who want to learn more about the college, hosted more than 300 visitors.
TSTC coordinator of student recruitment Melissa Zamora said the event was a success.
"I think it was a great opportunity for us to get TSTC in Williamson County on the map," Zamora said.
Zamora said the program tours were a popular part of the day.
"The demos and all the information they provided, along with our college fair, really did showcase what we offer," she said. "I think it actually showed the students why they should commit to this location in particular."
TSTC Provost Edgar Padilla said the college changed some things up this year to provide a new experience for visitors and for TSTC.
"We tried some new things this year that we felt would be successful in terms of bringing in more students and more applications," Padilla said. "We had a great mix of both traditional students coming from schools with their teachers as well as individuals coming with parents. We feel it was a very successful day."
TSTC employees came from the college's Fort Bend County, Marshall, North Texas and Waco campuses to help make the event a success.
"We had staff from across the state join us to assist our students in serving lunch, submitting applications and answering any questions they had about the college admissions process," Padilla said. "We're very proud of the team that pulled together to make it happen."
Sam McCutchen, college and career readiness counselor with Georgetown High School, said the school brought 29 students to the event.
"They had a blast," McCutchen said. "It broadened their horizons. They learned about opportunities that they didn't have a clue about, and they were amazed at how convenient this was to where they live. Now they know this is an option for them."
TSTC will begin registering students for the summer and fall semesters on Monday, April 2. For more information on the college, visit tstc.edu.