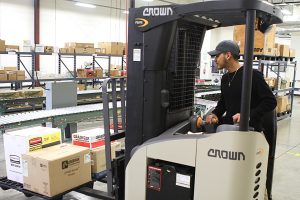 (RED OAK) – Since its inception in 2015, the Logistics program at Texas State Technical College in North Texas has graduated 10 students, all of whom are employed in their field.
Logistics instructor William Scott said he thinks the 100 percent placement rate is due to a couple of things.
"First of all, this is a very dynamic, large marketplace for logistics people," Scott said. "The second thing is we've tailored the program to the specific requirements that the employers have asked for."
Graduates of the program are working for companies such as Walmart, DB Schenker and others. Scott said the areas in which they work vary.
"It ranges across the board," he said. "We have a couple of people involved with inventory control. We have somebody in shipping and receiving. We have somebody that is a supervisor for a distribution center."
The program currently has 11 students in various stages of the curriculum.
"One will graduate this spring," Scott said. "That student already has a job and is working at it. We have another student graduating in the summer, and they're doing interviews right now."
Ashley Roper, a 2016 graduate of the program, works as a shipment coordinator at DB Schenker. She manages shipments and handles customer issues.
"I assign trucks and make sure that the correct trailers get assigned to the correct shipment so the correct customers get them," Roper said. "We have shipments that go to Canada, and we have to make temperature monitors which capture the temperatures to make sure that it's at the correct temperature, so when it gets there, the product isn't damaged. We have stuff that goes overseas, and we have processes … to make sure it gets across the border."
TSTC's Logistics program teaches students the ins and outs of the industry. The process begins with raw materials, which get made into inventory and then are transported to warehouses for distribution. Students can complete an associate degree in the program in four semesters.
Roper said she learned a lot in the program and it has helped her in her current position.
"Everything they talked about when I got here I already knew, but it's really cool to be able to actually see it in real life," she said.
TSTC began registering students for the summer and fall semesters on April 2. For more information on the college, visit tstc.edu.