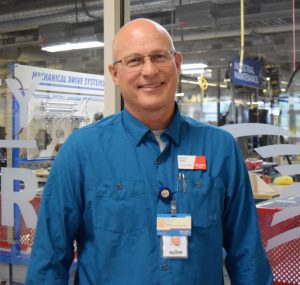 (HUTTO) – Texas State Technical College in Williamson County has named Darren Block as its new Campus Director and Campus Academic Manager.
Block retired from the Army in 2010 as a sergeant first class
"I was a motor sergeant or a maintenance supervisor," he said. "I was in charge of the motor pool. I was in charge of machine shops, maintenance shops, welding shops. I retired as an E-7 sergeant first class, but I was doing the job of an E-8 first sergeant. So, a lot of admin stuff, a lot of running a company-sized element in the army. That's what I did in the last 10 years."
After retiring, he attended TSTC in Waco and graduated from the college's Mechanical Engineering Technology (now Precision Machining Technology) program with a 4.0 GPA.
"I wanted to become an engineer, and that was the liaison in between the two," Block said.
After working in the field for a while, Block paid a visit to TSTC in Waco to update his machining software.
"Well, I went to Waco for software, and while I was there, Mr. Rodriguez (Jose Rodriguez, statewide division director of Production Manufacturing) asked me if I'd ever considered teaching," Block said. "I said I hadn't, and he asked, 'Would you? We'd really like to have you.' So I applied for it, and they hired me."
Block began teaching Precision Machining at TSTC in Williamson County in 2014 in the early stages of the program and grew to love the profession.
"I really love technical school," he said. "You can walk into any program here and ask the guys anything. They're the product-knowledge experts. So if I have a problem with HVAC, I go talk to those guys. They'll troubleshoot with me right here, right now. Or welding — I'm taking welding classes. You can learn anything you want to. That's the best part."
Though his new position focuses more on the management side of things, Block is glad to lend support to his colleagues.
"It's broader," he said. "I'm more involved in streamlining ways to teach or processes, like when we order tools or expendables, I'm making that process easier and more efficient. We're working on making syllabi easier for instructors so they don't have to spend time doing that when they could be spending time on teaching. I'm trying to do the background legwork for them."
TSTC Provost Edgar Padilla said Block is a great asset to the leadership team.
"We are pleased to have a proven leader at the helm of our student learning operations and proud that one of our own, a TSTC graduate, is leading our instructional team on campus," he said. "Darren has already proven that he has the subject-matter expertise to effectively manage our instructional programs, and as we grow, we will continue developing our leadership team internally."
Block said he is happy to be in a position where he can effect change.
"I'm glad that I am in a position where I can make a difference, a good one," he said. "That's the main reason I took this position."
TSTC prides itself on being "a great place to work" and is currently hiring for positions at its 10 campuses statewide. For information on open positions at TSTC, visit tstc.edu/about/employment.