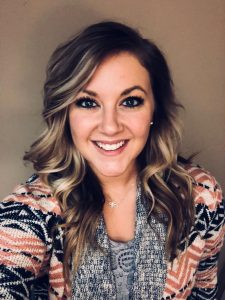 (RED OAK) – Texas State Technical College has welcomed a new recruiter. Annie Garcia began working at TSTC on April 30.
Garcia, a Palmer resident, most recently worked as a Job Corps admissions and outreach professional in San Antonio. She holds a Bachelor of Arts degree in Communications and Public Relations from the University of Texas at Arlington.
When Garcia found the opening at TSTC, she said it was an opportunity for a seamless relocation.
"I had heard all good things about the school before," Garcia said. "When we were looking into moving back into this area and I saw there was an opening, it kind of seemed like it was meant to be. With the position being so similar to what I was already doing, and it being so close to home, it was kind of perfect."
Although the job duties are similar, Garcia said she noticed one big change: the teamwork.
"Even though I was doing something similar before, it was very much me on my own, almost like they wanted us to compete," she said. "Here, we work as a team. Whether it be all of the campuses or all of the recruiters at one campus, I definitely feel like the three girls I work with will be pretty close-knit."
TSTC Provost Marcus Balch said he is happy to have Garcia on board.
"We're excited to welcome Annie to our team and once again have a full student recruitment staff," Balch said. "The team is critical to the continued growth of our campus as we work to meet the needs of our industry partners in the area. Annie has hit the ground running and brings enthusiasm to our campus and to the students she serves."
Garcia is enjoying her new position.
"I love it," she said. "I haven't met one stranger since I've been here. I get along with everybody, and I like the job. It makes it easy for sure."
So far, her favorite thing about TSTC is the enthusiasm she sees from her co-workers.
"Everybody that's here is very passionate about what they do," Garcia said. "Whether it be the provost or the instructors or the recruiters, everyone is very passionate about the school and their position. It makes the school worth coming to for the students because if they're going to spend the next two years here, they need to be around people who believe in what they do."
TSTC prides itself on being "a great place to work" and is currently hiring for positions at its 10 campuses statewide. For information on open positions at TSTC, visit tstc.edu/about/employment.