(HARLINGEN) – For the first time, every Texas State Technical College Auto Collision and Management Technology student in Harlingen that applied for a scholarship or tool grant from the Inter-Industry Conference on Auto Collision Repair (I-CAR) Education Foundation and 3M were selected as recipients.
A total of four Auto Collision and Management Technology students received a Sears Vo-Tech Tool Grant, a 3M Hire Our Heroes Tool Grant or a Pittsburgh Plate Glass (PPG) Foundation scholarship.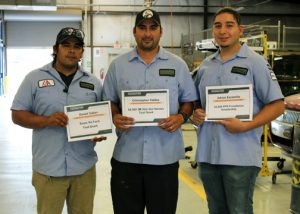 "These scholarships and grants are awarded every year and we encourage as many of our students who are interested to apply," said Joseph Cantu, TSTC auto collision and management instructor. "And this year's selection is especially exciting for us because everyone who applied received something."
Auto collision and management student Adrian Escamilla was awarded a $5,000 scholarship to be used for tuition, room and board, b
ooks, tools or safety equipment, made possible by the Pittsburgh Plate Glass (PPG) Foundation which supports the I-CAR Collision Repair Education Foundation.
"I applied about three months ago and since I hadn't heard anything I had written off the scholarship," said Escamilla. "So I was totally shocked to learn that I had been awarded the money."
Escamilla said this is not only a load off of his shoulders, but also his mother's, who helps him pay for college, since he has to pay out of pocket.
"This money is a big help for my mom and I and a step toward making my dreams come true," said Escamilla.
Once Escamilla graduates with his associate degree next semester, he said he wants to work to gain experience and eventually open his own body shop.
Christopher Valdez, a United States Army veteran, received a 3M Hire Our Heroes Tool Grant valued at $4,500 and focused on helping veterans who are interested in pursuing a new career in the auto body industry.
He will receive an initial $1,500 in tools as a student and the additional $3,000 after he graduates this summer with his certificate and finds employment in the industry.
"These awards were not expected; it's exciting news to get the help I need to purchase the tools that are required if I want to be successful," said Valdez.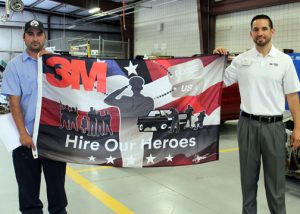 The husband and father of two served in the Army for 15 years and completed four tours in Iraq. When he was medically discharged in February 2017, he enrolled at TSTC to work at realizing his dream of owning a golf cart business.
"As a soldier for so long it's hard returning to civilian life, but TSTC and its instructors have been so supportive and motivating," said Valdez. "And now these grants are a good sign for my future and a financial relief for my family and me."
3M Sales Representative for South Texas Fernando de la Garza also presented Valdez with a flag designed by Chip Foose, American automobile designer and star of the reality television series 'Overhaulin'.
A Sears Vo-Tech Tool Grant for a Sears tool kit valued at $150 was also awarded to Escamilla and Valdez, in addition to Daniel Gaitan and Benjamin Soto.
All men agree that they are thankful and owe a lot to the I-CAR Education Foundation, 3M, PPG and Sears for selecting them for scholarships and grants that will make a difference in their education and careers.
For more information on Auto Collision and Management Technology in Harlingen and Waco, visit tstc.edu.