(HUTTO) – James Floyd gained not only law enforcement experience while serving as a military policeman in the U.S. Air Force, but also developed a solid work ethic and leadership skills.
"I learned to see the big picture and can organize the plan to achieve the goal," he said.
Floyd, 30, of Round Rock is scheduled to graduate in May with an associate degree in Welding Technology from Texas State Technical College at the East Williamson County Higher Education Center in Hutto.
Floyd observed his father take apart, put together and fix equipment of all kinds while he was growing up. From these experiences, Floyd developed an interest in welding and since attending TSTC he has grown to appreciate its science and artistry.
"If you understand the science, you can control the outcome of what you are welding," shared Floyd.
He enjoyed learning about tungsten inert gas welding which he called a "clean" welding method with no excess fumes. Floyd likes controlling the heat and travel speed of the cutting.
Floyd's parents were an influence in his choice to attend TSTC. Once he began researching the college and hearing about it from others, he admired the Welding Technology program's reputation.
Keith Wojcik, a Welding Technology program instructor, said Floyd challenges him in a positive way.
"I find him very driven," said Wojcik. "Being at the head of the class is not good enough. He's attentive and asks intelligent questions."
After graduation, Floyd wants to pursue an airframe and powerplant certification and work in the aerospace welding industry.
The College Preview at TSTC will be from 9 a.m. to 2 p.m. Thursday, April 14. For more information go to tstc.edu/openhouse.
Apply today at tstc.edu. Registration for summer and fall semesters begins Monday, April 4.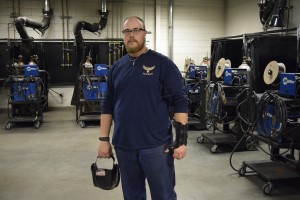 James Floyd of Round Rock and a Welding Technology student at Texas State Technical College in Williamson County, stands in one of the welding labs used for lessons.