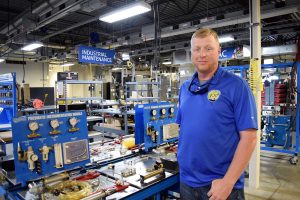 (HUTTO) – When Texas State Technical College student Damian Helmbold walks the stage Friday at the Summer 2018 Commencement, he will be reaching a goal he has worked towards for more than  two years.
Helmbold was born in Kingston, New York,  but moved to Texas in 1997. Three years ago, he experienced health issues and decided he wanted to make a change in his life.
"I had a fibrosis growing under my kidney and had a major surgery on my abdomen," Helmbold said. "I got through that, and then I had back surgery. After that I decided I wanted to do more."
So after learning about TSTC from some of his colleagues at the city of Georgetown, Helmbold enrolled in the Industrial Maintenance program.
"My coworkers went to TSTC in Waco and graduated from there maybe 10 years ago," he said. "They're in the field that I wanted to be in. That's what made me choose this."
Helmbold worked for the city of Georgetown's water department for nine years. He credits his upcoming degree for his new position with the city — supervisory control and data acquisition I&C technician. He began working in the new position six months ago.
"We maintain all the stations in the system for the city of Georgetown," he said. "It could be water or electrical substations and wastewater plants. We deal with all the communications, the programming on the PLCs and the communications back to the control center via radio and fiber optics."
Juggling working full time, going to school at night and spending time with his wife and kids, Helmbold was happy to take evening classes.
"I wouldn't have been able to finish if I couldn't do it at my own pace," he said.
Helmbold will graduate with honors and credits two things for maintaining his high GPA: his work ethic and his wife.
"I made sure to allocate enough time to do my work, any studying and any research I had to do," he said. "I couldn't have done it without my wife, of course, having two boys. Her help allowed me to step away to go to school, while both kids are in sports and with all the school activities."
His advice to those considering the school is to meet with the instructors.
"Come in and talk to the teachers themselves," he said. "They're a big reason I chose to come here and stay the whole eight semesters it took me to do this part time. It's a big accomplishment to finish something like this."
Helmbold is one of 23 students eligible to walk at the college's Commencement exercises  on Friday. The ceremony will be at 6:30 p.m. on the third floor of the East Williamson County Higher Education Center in Hutto.
TSTC is registering now for the fall semester. The last day to register is Monday, Aug. 20, and classes begin Monday, Aug. 27.
For more information on TSTC, visit tstc.edu.