By Emily Swartz
(FORT BEND) – Joshua Schott, a Texas State Technical College Robotics Technology student, grew up in less-than ideal circumstances.
"Growing up I had no idea where my next meal was going to come from," said Schott. "My life was less about success through education and more about survival."
Schott attended Palacios High School where he received a 2.1 grade-point average.
During that time, school was not a priority.
"I didn't receive much of a high school education," said Schott. "I knew that I didn't have many options as far as higher education, but I ended up getting my degree anyways at ITT Technical Institute."
At ITT Tech, Schott refocused on his education. He received a 4.0 grade-point average and graduated with an associate degree in Electronics.
The father of four worked menial jobs after earning his degree to provide for his family.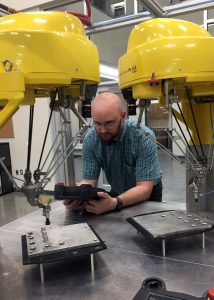 Without much luck finding a job in his desired field, he made the decision to enroll at Texas State Technical College in Fort Bend County.
"My wife is the person that inspired me to pursue my education. We did our research together and waited for the Fort Bend campus to open," said Schott.
The 38-year-old plans to earn his associate degree in Summer 2020 to venture out into the medical field. He wants to help develop new exoskeletal technology to aid in mobility for people that are paraplegic, including his two sons with Duchenne Muscular Dystrophy.
Duchenne Muscular Dystrophy is an inherited disorder of progressive muscular weakness typically in boys and in one of the many types of muscular dystrophy.
"My sons are where I get my passion from," said Schott. "I really want to make a difference for them through my career. "My dream is that all kids confined to wheelchairs are granted this opportunity."
Darcy Schott, Schott's wife speaks to his resilience.
"Joshua is a dedicated husband and father. He has never given up," she said. "He gives his time selflessly and is always willing to help another person in any way he can. Robotics is just another way for him to tirelessly help not only his family, but humanity as a whole."
Schott's family members are not the only ones proud of him. TSTC Electronic Power and Controls instructor Jonathan Bonkoske sings praises for the helpful student.
"He is a high quality student who personifies the technical skills education that TSTC provides," said Bonkoske. "He has always been available to help those who need a hand with class work and I look forward to seeing him excel in our program and his career."
Schott's wishes for after graduation are simple.
"I hope to provide enough finances to purchase a house, to no longer rely on government assistance, and take my family on a vacation," he said.
For more information on the Texas State Technical College Robotics Technology program, visit tstc.edu.
Registration is going on now. First day of class is August 27.