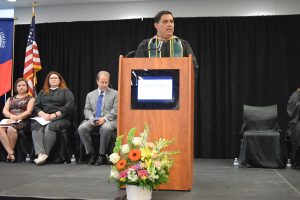 (HUTTO) – Texas State Technical College celebrated its summer commencement ceremony in Hutto Friday, Aug. 10. Twelve graduates walked the stage in the presence of their family and friends.
"This is a celebration of our graduates' efforts, and a recognition of all they have accomplished," TSTC Provost Edgar Padilla said. "Tonight's ceremony acknowledges the completion of study and dedication by our summer graduates and signifies the beginning of their professional careers."
Robb Misso, Founder and CEO of Dynamic Manufacturing Solutions, was the keynote speaker at the ceremony.
"Start your path," Misso told the graduates. "Understand your skills and your capabilities."
He urged graduates to continue developing in their careers.
"The more that I learn, the more that I realize that it's a journey," Misso said. "You can't stop. As soon as you stop, you stop progressing. You stop growing. It's so important that you don't ever quit. When you start something, persevere."
Industrial Maintenance graduate Damian Helmbold was selected for the Provost Award, an award given to a student who has demonstrated high academic performance, exceptional character and student leadership, and who has influenced their peers to strive for excellence.
"I'm totally honored and surprised," Helmbold said. "I wasn't expecting anything. My family being here, it was a great feeling."
Helmbold, who has worked for the city of Georgetown for nine years, credits his degree for his new position as a SCADA Technician, which he began six months ago.
Precision Machining Technology graduate Wyatt Hauer was excited to receive his degree. At just 20 years old, he manages Four Points Platinum Machining.
"I'm certified now, so that helps." Hauer said. "I do everything from programming parts to sweeping floors. I pretty much run the place. It's the owner, and then me. He handles the business and I handle the shop."
TSTC in Williamson County graduates earned degrees in six of the programs offered at the campus – Culinary Arts, Cyber Security, HVAC, Industrial Maintenance, Precision Machining Technology and Welding.
TSTC is registering for the fall semester through Aug. 20. For more information on the college, visit tstc.edu.