(HARLINGEN) – Computer Networking and Security Technology at Texas State Technical College in Harlingen is celebrating a unique national distinction. The program was recently named a Center of Excellence for Cyber Defense for two-year education programs by the Department of Homeland Security (DHS) and National Security Agency (NSA).
"With this distinction we are joining an elite group of colleges and universities across the country," said Norma Colunga-Hernandez, program associate professor. "Not just any program receives this honor and it proves that our faculty are doing everything to provide the industry with highly-skilled professionals when they graduate from our program."
The National Centers of Academic Excellence (CAE) in Cyber Defense was created to recognize and grant designations to institutions that offer rigorous degree programs in information security.
"Your ability to meet the increasing demands of the program criteria will serve the nation well in contributing to the protection of the National Information Infrastructure," Karen Leuschner, National CAE Cyber Defense program director stated in a letter to TSTC. "There is a shortage of cyber security professionals and higher education is the solution to defending America's cyberspace."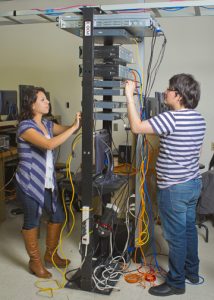 To receive the designation, which runs through academic year 2023, TSTC's Computer Networking and Security Technology program had to meet numerous criteria such as the program's curriculum had to be approved by the CAE selection board; the institution must have a networking security plan in place; program faculty must have all necessary cyber security certifications; student enrolled in the program need to practice cyber security skills outside of the classroom; credits must be transferable to a four-year institution and the program must practice community outreach.
"The application process was long, but well worth it. Even our curriculum received great reviews," said Hernandez. "But we had so much support from our leadership and others on campus, it was invaluable and we couldn't have done it without them."
TSTC in Harlingen Provost Cledia Hernandez said this is a great honor for the program and the college.
"We are honored by this designation," said Cledia. "We have amazing faculty that have worked so hard to meet the rigorous application process."
The program's graduating class of Spring 2019 will be the first to earn an associate degree and a certificate from the NSA and DHS, a recognition only a handful of students who graduate from a center of excellence receive across the United States.
According to Hernandez, students who receive the NSA and DHS recognition are more marketable in industry and are more likely to receive higher paying jobs within prestigious organizations.
"This designation fits with our mission. Here at TSTC we strive to make our students more marketable and this designation will allow them to be more competitive and have an edge in the labor market," said Cledia.
The demand for skilled Cyber Security professionals is expected to increase by 2021 with at least 3.5 million positions unfilled according to a February 2018 cyber security job report from Cybersecurity Ventures.
"We're preparing our students for jobs such as network and computer systems administrators, computer network architects and information security analysts," said Hernandez. "And with federal jobs on the rise, there is no doubt our students will have plenty of opportunities."
To learn more about Computer Networking and Security Technology, visit tstc.edu.