(HARLINGEN) – From homeless to a six-figure salary, Texas State Technical College Surgical Technology graduate David Flores accomplished what he set out to do – turn his life around.
The Donna native graduated from TSTC with a certificate in 1997 and with several job offers.
"I grew up very poor. We didn't have much, but I always had my dream," said Flores. "And this is what kept me motivated and determined. I knew I had to change my way of life. I needed to break the poverty cycle for my family."
The 41-year-old is now a Certified Surgical First Assistant at Rio Grande Regional Hospital in McAllen, where he started as a surgical assistant immediately after college.
He has been with the hospital for 22 years and has seen raises and promotions he never expected; but it was not easy getting to where he is today.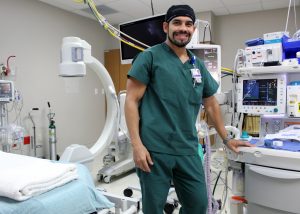 At the beginning of the Surgical Technology program, Flores and his family were homeless and living in a warehouse where his dad worked for little money.
Because his family could not afford even the basic needs, Flores did not have transportation to class and instead had to rely on fellow students for a ride.
"People always asked me why I remained so positive and motivated despite my struggles, but honestly it was my struggles that kept me going," said Flores. "I grew up with practically nothing, yet I felt I had the most to lose. I had no choice except to succeed."
Since then, Flores has made a name for himself in the healthcare community working with various surgeons, physicians and hospital directors around the Rio Grande Valley.
He is one of the first doctors call to assist with cases and surgeries. He was even one of the first from his hospital to be recommended for a nine-month surgical first assistant certification course, which he completed successfully.
"Without TSTC and the support from my instructor Robert Sanchez and the rest of his team, I wouldn't be where I am today," he said. "This program (Surgical Technology) has opened so many doors of opportunity for me. I feel like everything has fallen into place."  
Flores has come a long way from the high school student who knew what he wanted to do, but had no idea how to make his dream a reality.
"I had no idea in high school how to become a surgical technician, I didn't even know what the job title would be," Flores reminisced. "And I didn't know where I would go to school."
Flores remembers teachers and counselors pushing him to be a nurse and advising him that's the only way he would make his dream come true, but deep down that is not what he wanted to be when he grew up.
"It was not until a college fair during my senior year that I began to feel discouraged," he said. "No one had my program, then there she was, a TSTC representative who told me about Surgical Technology."
Flores does not recall the TSTC representative's name, but said because of her, he enrolled at TSTC before even graduating from high school. While his friends were enjoying their summer, he began the journey toward his new career.
His career has led him not only to Rio Grande Regional, but also as a contracted surgical first assistant for doctors across the Valley and to Guatemala, where he has done two years of missionary work providing free medical and surgery services to those less fortunate.
From passing tools to his father while he repaired cars to passing tools to surgeons while they operate, Flores said he has come full circle, and it's his father who serves as his inspiration.
"The success I have found is because of my father and my family," he said. "They motivated me through school and encouraged me to believe in myself and my skills. They worked hard so I could live my dream. Everything I am I owe to them."
Flores has also worked closely with TSTC's Senior Surgical Technology Instructor Anna San Pedro in initiating a preceptor program, which assigns students to mentors, sits on the TSTC Surgical Technology advisory board and has been named TSTC's Preceptor of the Year for two years.
"I love being able to give back to the college that gave me so much," said Flores. "I always tell students that this career is rewarding, can give them so many opportunities if they put the work into it and that we have lives in our hands so it's important to continue learning even after we graduate."
For more information on Surgical Technology, visit tstc.edu.