(HARLINGEN) – Workforce Development and Continuing Education at Texas State Technical College are working with local small businesses in Cameron County to help them have the trained personnel they need, thanks to Skills for Small Business grants awarded by the Texas Workforce Commission (TWC).
"TSTC and the TWC are working together on a small-business initiative to ensure that, like larger industries, they have a trained workforce," said Isidro Ramos, executive director for TSTC Workforce Training and Continuing Education. "Our community is made up of small businesses, and it is our responsibility to provide them with the resources they need."
TSTC's Continuing Education Department received $156,000 for 2019 to use for professional training and development among small businesses.
"Most of the time, small businesses have limited resources and training is not in their budget," said Ramos.  "But with this grant, they're able to get their employees the training they need. We can't forget about our small businesses."
TSTC has been conducting this training since 2016 and helped more than a dozen small businesses.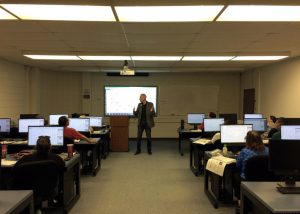 Small-business employers are able to apply for the training every year, but they must be able to pay the prevailing wages in the local labor market for the trainees funded under the grant.
"There is an application process, but most small businesses qualify," said Ramos. "These trainings help make a business more effective, efficient, competitive in their niche market, and innovative. We encourage everyone to apply and take advantage of the resource."
Courses offered through the grant range from leadership in customer service and communication skills to beginner, intermediate and advanced Microsoft Office and QuickBooks trainings to marketing and basic supervision.
There are nearly 20 courses offered.
For Victoria Barrientos, billing officer and certified mastectomy fitter for MediForce in Harlingen, the QuickBooks trainings she completed through TSTC will help her and the business she works for advance in the way they use the software program.
"We use QuickBooks every day, and there were still features of the program we had no idea existed," she said. "This course taught us how we can use QuickBooks to help us work smarter, not harder."
Barrientos, who has been with the company for 10 years, and four others from the company recently completed the QuickBooks beginner and intermediate courses.
"This was a great learning experience all around, and I can't wait to implement what we learned," said Barrientos. "We want to work on using QuickBooks not only for retail and services, but now for quotes, reporting and inventory since becoming aware of these features in our courses."
Laura Alvarez, a clerk for the construction department at Harlingen Glass & Mirror who has only been with the company for three months, jumped at the opportunity to take a QuickBooks training course.
"I had no QuickBooks knowledge prior to this training," said Alvarez. "I'm 61 years old and thought I couldn't learn anything new, but the learning experience and hands-on training made understanding easier, and now I'm ready to use this knowledge at work."
Osvaldo Sosa, president and owner of Harlingen Glass & Mirror,  said professional development is something he encourages all of his employees to pursue.
"I am pleased that TSTC is offering this type of resource," said Sosa. "This gives me the skilled employees I need and my employees the confidence they need in themselves to do their job well and work with customers. It's like I always tell them: education cannot be taken away from you."
TSTC's Waco and Fort Bend County campuses also received a Skills for Small Business Grant for training within their communities.
For more information on Workforce Development and Continuing Education at TSTC, call 956-364-4590 or visit tstc.edu/workforce.