(HARLINGEN) – What do the Harlingen Cotton Committee and the late Ruben Vela's former drummer have in common? A passion for agriculture.
On Thursday night, during the annual Harlingen Cotton Committee 2018 First Bale of Cotton Auction and Scholarship Fundraiser, Juan Martinez, former drummer for the late conjunto and accordion legend and 13 other Agricultural Technology students at Texas State Technical College were presented with a $15,000 check, which was matched dollar-for-dollar by the Lozano-Long Foundation, bringing the total to $30,000 for scholarships.
The funds were divided equally among the 14 students.
"After spending 10 years in the music industry and as a Valley music teacher, this career change has come with its challenges; mainly financial," said Martinez. "So this money is going to help me put gas in my car, help earn my associate degree and continue what my grandfather started."
Martinez grew up in Santa Rosa, working farms with his grandfather planting different crops such as sugarcane, cotton and vegetables. But his career path instead followed his father's who was the lead singer for Vela.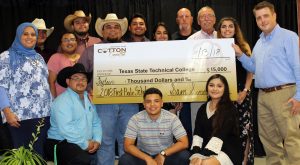 "I still love music, but after my grandfather passed away a couple of months I wanted to honor him, and this is how I'm doing it," said Martinez. "I thank TSTC and the Harlingen Cotton Committee for allowing me this opportunity."
Sam Simmons Jr., Cotton Committee chairman, said the organization's ultimate goal is to help students like Martinez pursue an education in a field where the number of farmers is decreasing annually.
"We want to empower students to better their lives," said Simmons. "And we hope that every student we touch can lead a successful career in Agriculture. We need them."
The partnership between the Harlingen Cotton Committee and TSTC began in 2011. Since the organization's first recorded donation, the funds provided for scholarships has grown along with the partnership.
To date the organization has donated more than $60,000 to TSTC.
"The Harlingen Cotton Committee do so much for the agriculture community in the Rio Grande Valley, including for our students here at TSTC," said Amy Lynch, TSTC senior field development officer. "They care so much about agricultural education and ensuring that students have the resources they need to make their dreams a reality. It's amazing."
And making their dreams a reality is something that Martinez, who completed an internship with Texas A&M AgriLife Research and Extension Center in Weslaco and was immediately hired on; and Samantha Mendoza, also a TSTC Agricultural Technology student, are familiar with.
"I'm graduating next semester and I will transfer to Texas A&M-Kingsville to pursue a degree in pre-veterinary medicine," said Mendoza. "And all of this is possible because of TSTC, its instructors and the money I have just received from the Harlingen Cotton Committee."
"I struggle financially and this has brought such a huge relief. I'll be able to focus on getting to the finish line," she added.
TSTC Agricultural Technology Department State Lead and Instructor Sam Gavito said he is overwhelmed and overjoyed by the organization's generosity to his students and program.
"There are no words to describe how appreciative I am for the help our students are getting," said Gavito. "Every student here is worthy of this scholarship. They have proven their academic success and I can't wait to see what else they can achieve with this help."
Gavito added, "This is an amazing event. I send a huge thank you to everyone."
All proceeds from the 2018 First Bale of Cotton Auction and Scholarship Fundraiser benefit the committee and Algodon Club of Harlingen Scholarship Fund.
"This donation is life-changing for many of our students," TSTC Provost Cledia Hernandez. "That one tank of gas can mean the difference between graduating or dropping out and this organization understand that."
"They are friends of TSTC," Hernandez added. "The impact they have on our TSTC students is amazing. Tremendous."
For more information on TSTC Agricultural Technology, visit tstc.edu.