(HARLINGEN) – Cesar Meza is a Business Management Technology student at Texas State Technical College. The 19-year-old hopes to receive his associate degree by Summer 2019.
Until then, the Harlingen native has a goal of creating a Business Management Technology club so that like-minded students can come together and share their passion for business while doing community service and making the community a better place.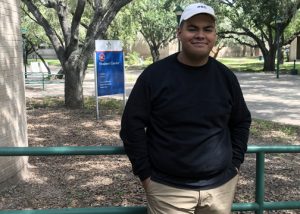 What are your plans after graduation?
After I graduate from TSTC, I plan on transferring to the University of Texas to pursue a bachelor's degree in business administration.
What's your dream job?
I have a passion for business. In fact, my brothers and I are starting up a clothing brand called ESC, which stands for escape. We want our clothing to be considered unique and out of the box and allow people to get creative with fashion. So my dream is to grow this business with them and become a successful clothing business owner.
What has been your greatest accomplishment while at TSTC?
My greatest accomplishment has been my grades. I'm proud of myself for maintaining A's and B's in all of my classes. Being a college student is not always easy. It takes a lot of hard work and it's paid off. I'm proud of myself for that.
What greatest lesson have you learned about yourself or life?
The greatest lesson I have learned is to not take time for granted. Time is a precious thing, and one thing TSTC has taught me is time management. Now I am a lot more productive with the time I am given.
Who at TSTC has had the greatest influence on your success?
The person at TSTC who has inspired me the most is Social and Behavioral Science instructor Frank Coronado. He has taught me how to pay attention to detail and how to be an active listener for others and their messages. He is a great instructor and person overall who cares about his students.
What is your advice for future TSTC students?
This may sound cliche, but my advice to future TSTC students is to never give up. No matter what cards you are dealt, you must rise and keep going. We can all achieve success; you just have to work hard and push forward.