(FORT BEND) – Nearly a decade after graduating from high school Randy Ratcliff became a college student, proving that it is never too late to get an education or a successful career.
"TSTC changed my life for the better," said Ratcliff. "It set me up with the foundation to give my family better life."
The 38-year-old, who is married with two children, graduated from TSTC HVAC Technology with a certificate and associate degree in 2009 and 2012 respectively and recently received a promotion – he is now the service manager at El Campo Refrigeration and Restaurant Supply, where he has worked for four years.
He started out as a service technician, but already had extensive experience in commercial heating, ventilation and air conditioning (HVAC) and refrigeration.
"I enjoy working outside and with my hands," said Ratcliff. "And HVAC and refrigeration is always going to be a necessity. So for me there was no other career. HVAC was it."
While Ratcliff waited for his wife to complete her degree, he worked at a polyvinyl chloride, or PVC manufacturing company in Wharton and did his research on colleges that offer HVAC.
"I knew I was looking for a college that offered hands-on learning. I knew a university wasn't for me," he said. "After a lot of research, I found TSTC online and when I learned about their hands-on approach, it clicked. It was the college for me."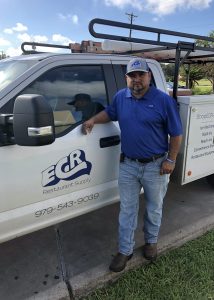 College was a challenge for Ratcliff. He was full-time student and had to work to support his family. But because he was an HVAC student, he was able to work for a local refrigeration company performing maintenance on ice machines while gaining experience.
"Everything I was learning in class I could apply out in the field while I worked," he said. "That's the beauty of TSTC. You practice with actual machinery and tools you use out in the field. It was enough to set me up with a successful career and make me competitive in my field."
Ratcliff graduated with several job offers, including a full-time position where he was working at the time.
When El Campo Refrigeration, where he had already applied, learned about his various offers, they made him an offer he could not refuse.
"Randy has great work ethic and fits into our culture well," said Michael Kennedy, owner of El Campo Refrigeration. "And the one quality that I really admire about Randy is his willingness to work side-by-side with our service technicians to help train and lead."
Ratcliff said he credits TSTC for helping him make his dreams a reality.
"If not for TSTC I would still be working shifts that keep me away from my family," he said. "I would not have the opportunities I have been given. TSTC makes you employment-ready and employable."
Ratcliff, as manager, is now reaching out to TSTC and other local colleges to recruit new employees and said its to help others who may be in the same position he was in when he was school.
"I'm always recommending TSTC, even to the guys I work with," said Ratcliff. "I know that if I hire students from TSTC they would have received quality hands-on training and be work ready."
HVAC Technology is offered at TSTC's Fort Bend County, Harlingen, North Texas, Waco and Williamson County campuses.
For more information, visit tstc.edu/programs/HVACTechnology.