(HARLINGEN) – Katlyn Nuncio mixed baking soda, salt and water to watch her rocket launch during "Journey to Mars," a first-of-its-kind event hosted by the Texas State Technical College Challenger Learning Center.
"It was so cool watching how the mixture reacted and how high my rocket went," said the 9-year-old fourth grader from Ed Downs Elementary School in San Benito. "The event was great. I love science and I hope to become an engineer when I grow up."
The half-day event, which was free and open to the public, was attended by more than 200 people.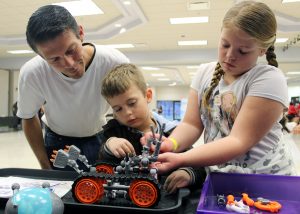 It was organized in partnership with NASA to celebrate the center's 5th and NASA's 6th anniversaries.
"We're are so excited with the response we received from the school districts and community," said Yvette Mendoza, TSTC College Readiness coordinator. "The number of families who attended this event surpassed all of our expectations. This event was a definite success."
The event included hands-on activities for all ages from space crafting and gravity affects to Mars rover building and Mars habitat creating.
Every booth was divided into phases, and resembled a space mission set up. Planetarium shows were also available throughout the morning.
For 11-year-old Aiden Barrera from San Benito, "Journey to Mars" was a great way to celebrate his birthday.
"I'm into science and engineering, but my favorite subject is math so this event was so much fun for me," said Barrera. "It was a great way to spend my birthday weekend."
The fifth grader said he had the most fun creating a home for a Mars extraterrestrial creature using paper plates, paper cups, paint and glue.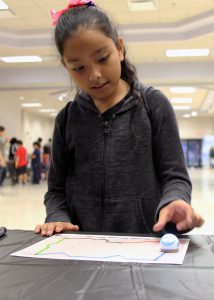 "This was truly a team effort. We really wanted this event to introduce children of all ages, from toddler to high school, to the science, technology, engineering and mathematic (STEM) fields," said Mendoza. "It's important to plant the seed at a young age, especially because STEM is a huge priority for our school districts and our state."
"Journey to Mars" was a result of a signed NASA Cooperative Agreement that was introduced to the TSTC Challenger Learning Center by the National Challenger Center.
Through this agreement, TSTC's center will receive upgraded hardware and software to add new missions to its lineup.
"Our goal with this is to be able to offer new, educational and exciting opportunities for the students who visit us," said Mendoza. "All that matters is that they are learning while having fun."
Under this cooperative, Mendoza said the TSTC Challenger Learning Center introduced its new mission "Expedition to Mars" this year and will introduce "Lunar Quest" in 2019 and "Operation Comet in 2020."
Mendoza also said the community can expect to see more free, community events that provide educational opportunities in the near future.
For more information on TSTC's Challenger Learning Center or to book a mission, call 956-364-4517.