(HARLINGEN) – For Sandy Leal, curveballs in life have become obstacles to overcome, not insurmountable roadblocks. She has not let anything stop her from fulfilling her dream of becoming a nurse.
The year has not been easy, but tonight Leal will join more than 100 graduates at Texas State Technical College's Fall 2018 commencement ceremonies at the Harlingen Municipal Auditorium and earn a certificate in Vocational Nursing.
"I honestly still can't believe that I'm here at this point in life," said the 49-year-old. "I'm so happy and excited. After everything that has happened, I'm finally here."
The Brownsville native enrolled at TSTC in 2016 to begin her prerequisites for the Vocational Nursing program. But immediately after enrolling, Leal was rushed to the hospital for an emergency hernia repair.
In the process, the single mother also learned she had a tumor on her right kidney.
"I never had symptoms or felt sick. It was a huge surprise for me. Scary, really," she said.
Fortunately, the tumor was benign. After surgery and some time off from school, she made a full recovery.
"After I healed, it was time to hit the books hard," she said. "I didn't want to waste any more time. I needed to become a nurse for me and for my daughter."
While in school as a full-time student completing her prerequisites, she also worked full time as a medication aide at Retama Manor Nursing Center in Harlingen.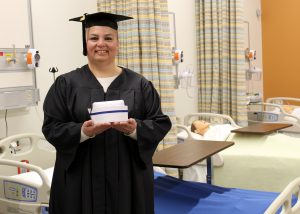 That all changed, however, when she was accepted into the Vocational Nursing program.
"I never thought I would get in," she said. "So I never thought about what I would do if I did."
The woman who moved from Matamoros, Mexico to the U.S. at 15 years old with her family said she often used her language barrier, age and financial situation as an excuse.
"When I found out I was accepted, I was surprised, excited, happy and nervous," she said. "I never thought in a million years that this girl from Mexico could accomplish this dream. How was I going to support myself and daughter while in school?"
Leal also knew she would have to quit her job to make it through the rigorous program, and she leaned on student loans to survive.
Her now 16-year-old daughter and Leal spent a lot of time at the Brownsville Public Library because Leal didn't have a laptop to do homework at home.
"School was a huge sacrifice, not only for me, but for my daughter as well," she said. "Even though I knew it would all be worth it in the end, there were still times that I cried myself to sleep, felt like a failure and felt like quitting."
A couple of semesters into the program, Leal's mother had a heart attack and passed away. Leal described her as her best friend, support system and backbone of the family.
"Although my instructors were very understanding and empathetic, I had no time to grieve her," Leal said. "I was smiling on the outside, but crying on the inside. I literally buried her and had to be at a mandatory community service project the next day."
Leal said studying in class about what killed her mother was also very difficult.
"I had to pick myself up and keep going. But the beautiful thing is that I know she's with me," she said with a smile.
And she knows she will be with her Friday night at commencement.
"This was her dream to watch me graduate," she said. "I dedicate this moment and night to her."
Leal will begin working in the coming days at Retama Manor Nursing Center as a graduate nurse and transition into a vocational nursing position upon passing her National Council Licensure Examination.
"This program and its faculty made me a stronger person," Leal said. "I want to thank them for that, thank my family for their support and especially my daughter for her understanding and always standing by my side."
TSTC Vocational Nursing program director Heather Sauceda said she is proud of everything Leal has overcome and of her achievements.
"She has a passion for nursing. She has a heart for the profession," said Sauceda. "This is what has gotten her through, and I know she will be a great asset to the profession, will be a great patient advocate and will bring smiles to those she cares for."
Leal hopes to work for the next year, save money and be able to do special things for her daughter before returning to TSTC to earn her associate degree as a registered nurse.
TSTC's commencement ceremonies will be held tonight at the Harlingen Municipal Auditorium at 4 and 7 p.m.
For more information on Vocational Nursing or Registered Nursing at TSTC, visit tstc.edu/programs/Nursing.