(HARLINGEN) – Unsure about his future, Nicholas Trevino left the Rio Grande Valley to work in the oil fields. Although the pay was good, he knew that his future in a fluctuating industry was not secure, so he decided to enroll at Texas State Technical College in 2016.
Fast forward to December 2018: The 23-year-old graduated with honors last night with his second associate degree and a 4.0 GPA in Aircraft Powerplant Technology during TSTC's commencement ceremonies at the Harlingen Municipal Auditorium. He joined more than 100 graduates who also earned certificates or associate degrees.
"I never thought college was for me, and TSTC changed that," said Trevino. "Thankfully, everything has come together like it has, and I'm excited to begin a new chapter in my life with a new career."
The Kingsville native, who earned his first associate degree from TSTC in the summer of 2018 in Aircraft Airframe Technology, said it was his uncle Raul Garcia, also a TSTC alumnus, who inspired him to attend TSTC and pursue a career in aircraft maintenance.
"Through the years I have seen his success and how TSTC shaped his career and life," said Trevino. "And I've always been amazed by it. So when he suggested I move back home and attend TSTC, I didn't hesitate."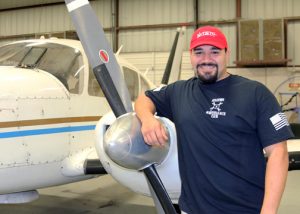 In fact, Trevino not only followed in his uncle's footsteps by attending the same college, but he also pursued the same major.
Garcia currently works in Kingsville at L3 Technologies, an aerospace and defense company, overseeing a team of mechanics.
"I hope to work with my uncle someday and to join the L3 family," said Trevino. "I have set goals for myself, and this is one of them."
Trevino already has his Federal Aviation Administration (FAA) license and an FAA aircraft airframe license. Upon passing his certification exam, Trevino will also have an FAA aircraft powerplant license.
He said he hopes also to learn to fly and become a pilot, get certified in aircraft inspection authorization and later become an FAA instructor.
"It feels great knowing that the experience and training I received at TSTC and the certifications I worked hard to receive have given me confidence to enter the workforce," said Trevino. "I'm in this for the long haul and ready to continue to learn and grow."
When he was a student, Trevino had the chance to work hands-on with a Piper Aztec airplane, some aircraft engines and a helicopter.
Trevino said working in TSTC's Talent Management and Career Services office as a work-study program student also gave him experience and the opportunity to develop soft skills in communication, leadership, teamwork and adaptability.
"From my instructors and supervisors to my peers, I have built lifelong relationships and friendships," said Trevino. "Everyone has been a blessing in my life, and for that I am grateful because never in a million years did I think I would be given any of the opportunities TSTC has given to me."
Aircraft Airframe Technology and Aircraft Powerplant Technology are also offered at TSTC's Abilene and Waco campuses.
For more information, visit tstc.edu.