(HARLINGEN) – To protect and serve is what the newest Texas State Technical College police officers will do to keep the college community safe.
Officers Juan Munoz and David Sarabia were recently sworn in by Judge Eloy Cano Jr. during a ceremony hosted on campus to celebrate their new positions with their families, TSTC administration, faculty and staff.
"Hosting these ceremonies are an important part of welcoming officers into our family," said TSTC Police Commissioner Aurelio Torres. "This is a way to introduce them to our community and also honor their families who sacrifice when they have a loved one in law enforcement."
Torres said Sarabia and Munoz exemplify the qualities that TSTC looks for when hiring officers for the force.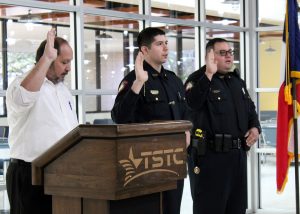 He added that on top of skills and experience officers must also possess TSTC's core values of excellence, integrity, accountability and service.
"As law enforcement, we not only support our policing principles, but also support TSTC's mission and goals," said Torres. "We're excited to have these men join our team. They will provide excellent service and we're proud to have them on board."
Munoz graduated from the TSTC Police Academy in 2017. During his time as a cadet, he fell in love with the campus and the community.
"Everyone is like family here," he said. "When I applied I thought it was a long shot, but I figured I had to take the opportunity. And with God's will, here I am."
Munoz said he hopes to continue growing with the department and his goal is to not only protect the college community, but also maintain the department's positive image."
David Sarabia is also a graduate of the police academy on campus and said working with the college's police department has by far exceeded his expectations.
"After I completed the academy I was pointed in the right direction toward TSTC," said Sarabia. "I'm glad to be here and to have been given this opportunity. My goal is to serve and protect and be all-around helpful."
After both men took their oath, they were presented their badges, which were pinned by their wives. They agree having their families present made the occasion much more special.
TSTC Provost Cledia Hernandez addressed the new officers and prayed for God's protection over their lives.
"We owe a debt of gratitude to all law enforcement personnel and agencies," she said. "Thank you for taking an oath to lay your life on the line to protect and to serve. And I want to especially thank you for choosing TSTC as the community where you exercise that oath on a daily basis."
TSTC prides itself on being a great place to work and offers competitive pay and full benefits package. To search or apply visit tstc.jobs.