(HARLINGEN) –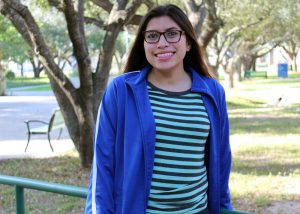 Lorrayne Gonzalez from Mercedes is studying at Texas State Technical College to become a dental assistant. The 22-year-old expects to earn her certificate in Summer 2019 and said her passion for helping people was the deciding factor in pursuing a job in the medical field.
The single mom also finds time, in addition to studying, to be active on campus. She is an active member of the TSTC Service Squad and Leadership Academy.
What are your plans after graduation?
After I graduate I will begin working as a dental assistant to save up money to return to school and pursue either dental hygiene or vocational nursing.
What's your dream job?
My ultimate dream is to receive a bachelor's degree in nursing and be able to put my passion for helping people to good use and helping nurse others back to good health.
What has been your greatest accomplishment while at TSTC?
My greatest accomplishment at TSTC has been getting involved on campus and working closely with Student Life and Student Government Association. When I first enrolled at TSTC I was pregnant with my daughter, who is now 2-years-old, so I never thought I'd have the opportunity to do something like this.
What greatest lesson you learned about yourself or life?
The greatest lesson I have learned is to always push yourself and go that extra mile even when you feel like giving up. Everything will always be worth it in the end. There were times I had to bring my daughter to school with me just so I could make it to class; so if I can do it, anyone can.
Who at TSTC has had the greatest influence on your success?
My English instructor Yvonne Browning and TSTC student life coordinator Belinda Palomino have had the greatest influence on my success. Browning was there for me while I was pregnant, always making sure I was feeling okay and not falling behind in class. She was so understanding. And Palomino is easy to talk to and has taught me that it's better to give than to receive.
What is your advice for future TSTC students?
My advice for future TSTC students is to not be afraid. TSTC is the place to learn, study hard and remain focused on your goal. The people at the college really do become a second family.