(HARLINGEN) – Brownsville native Joel Jimenez is a student at Texas State Technical College pursuing an associate degree in Architectural Design and Engineering Graphics Technology. The 19-year-old will be graduating this month with a 3.75 grade-point average.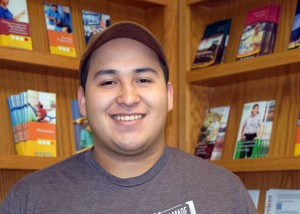 When Jimenez is not studying you can find him working with the Architectural Design and Engineering Graphics Club. As a member of the club, he is an active volunteer with the Harlingen Aerotropolis Project designing three dimensional models used to attract aerospace manufacturing companies to the city and with the Rover Team building a vehicle with tracking equipment that will be used to survey land.
What are your plans after graduation?
After graduation I plan on continuing with academic classes at TSTC. Then I plan on transferring to a university to pursue a bachelor's degree in Mechanical Engineering.
What's your dream job?
My dream job is to become a licensed engineer managing an engineering research firm that leads the development of transhumanism, which expands the advancement of human capabilities physically, intellectually and psychologically.
What has been your greatest accomplishment while at TSTC?
My greatest accomplishment while at TSTC was the opportunity I received to represent the college at SkillsUSA. I recently received a gold medal in Automated Manufacturing Technology and will be traveling to Kentucky in June to compete at the SkillsUSA National Conference. Last year, I received a gold in Technical Drafting and competed at the national level as well.
What greatest lesson have you learned about yourself or life?
There is a saying that has always stuck with me, "Si estas triste en lo pequeño, estarás triste en lo grande".  In other words, you should be happy with what you have. I believe this is important to remember if you want to be successful in life.
Name a TSTC person who most influenced your success?
The person who has influenced my success the most is my instructor David Campos. He is a man with good intentions for his students, ongoing perseverance and quick witted thoughts. It is his dedication to student success that has inspired me to fully understand my field of study.
What is your advice for future TSTC students?
I advise future TSTC students to join as many clubs as possible, and to attend as many events they can. TSTC has a lot to offer and being actively involved makes a big difference in your college experience. You not only meet more people, but you also make connections that may help you in the future. More than anything though, enjoy your time at TSTC because time goes by too fast.