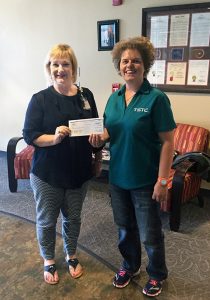 (ABILENE) – Hendrick Medical Center in Abilene is bringing the dream of a college education a little bit closer for students of the Digital Media Design program at Texas State Technical College.
Hendrick has donated $2,500 to TSTC's Make a Texas-Sized Difference Campaign, helping to offer the Texan Success Scholarship to new students in the program. The funds allow TSTC to give students $500 scholarships to be used toward equipment they will need in the program. The TSTC Foundation matches donated funds for this campaign, so the Digital Media Design department will have $5,000 in scholarships to award.
Christina Hollis, division director of Computer Information Systems and Design at TSTC, said the scholarships will help students get a head start.
"Not all students have the funds to purchase a laptop at the beginning of our program," Hollis said. "These funds will help those students hit the ground running the first day of class with the technology they need to be successful."
A longstanding partnership, TSTC's Digital Media Design and Culinary Arts departments helped with Hendrick's annual Cancer Survivorship Program event, the Survivorship Culinary Showdown.
"The Digital Media students created the event's intro video," Hollis said. "We also created the postcard sent for the event and the program, did photography and hosted a live feed of the event."
Norm Archibald, vice president of development at the Hendrick Medical Center Foundation, said Hendrick was proud to partner with TSTC and the Digital Media Design department.
"We appreciate the opportunity to work with the young talent in our community, and we're excited to have a hand in helping students reach their educational goals," Archibald said.

TSTC is registering through Aug. 22 for the fall semester. Visit www.tstc.edu for more information.