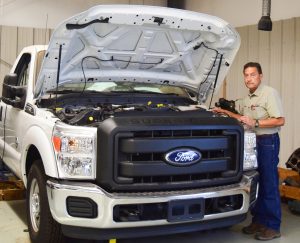 (SWEETWATER) – When Si Acuña began working at Texas State Technical College in Sweetwater, he thought he would only be there for a few years. Now he finds himself in his 40th year at TSTC.
Acuña began working at the college in 1976 as a lab assistant in Automotive Technology.
"I was thinking I would stick around and see how long I was going to stay," Acuña said. "I thought I would maybe go and do something else after that. I started as a lab assistant and moved on to an instructor, then moved on to master instructor for many years, and I was the department chair for years on and off. The program just kept going and going."
With the development of advanced technology in cars, Acuña has seen much change throughout his time at TSTC.
"In the last 15 years or so, technology has changed so rapidly," Acuña said. "The curriculum has changed quite a bit to keep up. In my time here, we've grown from being in a small building to a larger building where we are now. We have a lot more space and more classrooms with a well-equipped shop."
He keeps up with the technology by reading and maintaining membership in professional organizations.
"I've been a member of many organizations that send out information and host conferences, like the Mobile Air Conditioning Society, the Automotive Service Association and the Automatic Transmission Association," Acuña said. "Being part of those organizations, going to conferences and continuing to study on my own, I'm learning all the time."
Acuña is proud to have made a difference at TSTC.
"I'm glad I was part of it," Acuña said. "I helped to train a lot of students. One of the things I really like is working with the students and training them. The training is what's really kept me here so long, being able to pass on my knowledge to other people."
Overall, his favorite moment in teaching is seeing his students succeed.
"I have a lot of favorite moments, but I guess what is the best is when I see them cross the stage and they get a job," Acuña said. "That's the greatest one."
-#-