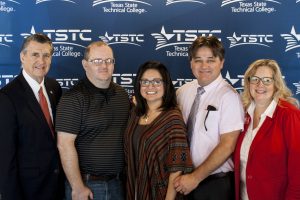 (ABILENE) – Texas State Technical College in West Texas honored the recipients of this year's Chancellor's Excellence Award at a luncheon Friday in Abilene. Three West Texas employees were chosen as recipients.
This year's award winners are Adam Harvey, lead application administrator at TSTC in Sweetwater; Griselda Sanchez, community standards liaison at TSTC in Sweetwater; and Andy Weaver, health science statewide division director at TSTC in Abilene.
The Chancellor's Excellence Award began in 2001, and over the past 15 years 270 TSTC employees have received the honor. Recipients are chosen based on outstanding contributions and achievements, commitment to excellence, and character. Honorees serve as agents of change in the advancement of TSTC initiatives.
-#-