(FORT BEND) – Cheyenne Kuta was only 16-years-old when she purchased her first $5,600 welding machine, she knew at the time that this would be a great investment toward her future.
Fast forward to December 2018, she is now a graduate from Welding Technology at Texas State Technical College in Fort Bend County.
"I'm so excited to finally be celebrating this milestone," said Kuta. "I'm excited to begin working and looking forward to a successful career in welding."
The Plantersville native walked across the stage Monday night at the Stafford Centre in Stafford, Texas as an honors graduate with a grade-point average of 3.75 and received two certificates and an associate degree from TSTC.
She joined close to 60 other graduates from TSTC in Fort Bend County who also earned certificates and associate degrees.
"We are so proud of our daughter," said Kuta's mother Sandra Kuta. "She has achieved so much at the young age of 19. She's goal-oriented, driven and determined. All of this has carried her to the top."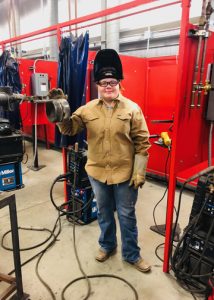 Kuta was exposed to the field of welding at an early age by her grandfather and uncle. She eventually began her own welding journey in high school.
She quickly rose to the top, beating a lot of the boys in her class and earning two "Top 10 Awards" in the high school's welding department.
"I really got into welding. I loved it and I was good at it," said Kuta. "I had a lot of support and a great mentor."
That mentor was Don Tullos, president of Texas Boiler Makers in Kuta's hometown. Kuta said he took her under his wing and always encouraged her to continue in the field no matter what the men said.
"There came a point where I was going to Don's shop every day to practice my welding," said Kuta. "Then one day he told me, 'You're really great at this. You could make this a career.' And it all changed for me."
Tullos was also the person who introduced Kuta to TSTC. She toured both the Waco and Fort Bend County campuses, and although further from home, TSTC in Fort Bend County was the perfect fit for her.
"It was a new campus with new labs and equipment. I couldn't wait to start," she said. "There were also still smaller class sizes so that meant more one-on-one time with instructors."
It was August 2017, when Kuta enrolled at TSTC, set up a trailer at a local RV park, where she stayed during the week; and sped up her program completion by testing out of Welding Technology introduction courses because of the welding experience she brought from high school.
Kuta was even inducted into the Phi Theta Kappa International Honor Society.
"TSTC was a really great experience for me. It was a great place to kick-off my welding career," she said. "And I was fortunate enough to have instructors who believed me, supported me and pushed me to be the best welder I could be."
TSTC Welding Instructor David Torres called Kuta a great welding student who is goal driven.
"Cheyenne is very dedicated and you can see that dedication in her welding abilities," said Torres. She's always lending a helping hand and coming in early and staying late to build her skills. She will go far in this industry; I know she'll make it because she has all of the skills. Her future is bright."
Kuta also said the best thing, for her, about graduating from TSTC, is that she is leaving debt free because of a collection of scholarships she received in high school, financial aid and non-traditional students scholarships from TSTC and other welding industry organizations.
Her advice for other students, "Always put yourself out there. Apply for scholarships, you just never know. This is a possibility for everyone," she said.
She also wants other girls and women to know that there is no need to feel intimidated about entering into a male-dominated career.
"Don't be scared. If you have a passion for something and you want to do it, do it," Kuta said.
"We can do the job just as good, if not better, than the men. Let's show them what we got."
So what's in Kuta's future?
She has already begun the job application process. She has interviewed with several oil field companies such as National Oilwell, Conroe and Baker Hughes.
"The oilfield is where the jobs are at and I can't wait to get started," she said.
Kuta also hopes to become a Certified Welding Inspector and a Certified Welding Instructor in the coming years.
For more information on Welding Technology, visit tstc.edu/programs/WeldingTechnology.